1633) Berlin 1949-Mi. no 30 - 34 ** rotaufdruck-RARE!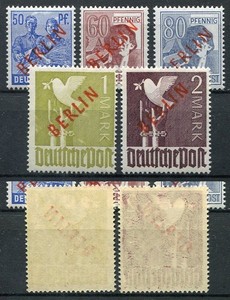 ---
Alle Marken befinden sich in guter Erhaltung.All stamps are in good condition.

Unsere Lieferbedingungen:

Nach Ablauf der Auktion erhalten Sie von uns innerhalb von1-3 Tagen per E-Mail eine Rechnung mit Angabe der Kontonummer und des Rechnungsbetrages. Versand erfolgt umgehend nach Zahlungseingang. Versandkosten entnehmen Sie bitte der jeweiligen Artikelbeschreibung! Fragen zu unseren Angeboten werden gerne vor Ablauf der Auktion beantwortet. Zoll / Customs: Bitte beachten Sie, dass bei Lieferungen in Nicht - EU Länder (z.B. Schweiz) zusätzliche Zölle und Gebühren anfallen können.-------------------------------------------------------------------------------------Please note that there may occur additional tax and customs duties for shipments outside the EU.

 

 

Erstellt durch Turbo Lister Das kostenlose Einstell-Tool. Stellen Sie Ihre Artikel schnell und bequem ein und verwalten Sie Ihre aktiven Angebote.